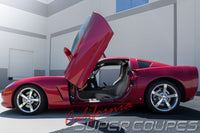 Window Rails for Chevrolet Corvette C6 by CSC (New Version; Vacuum Mold)
California Super Coupes Window Rails
These are the all new redesigned 2018 version of our signature Window Rails. This is a new and improved part using our latest vacuum forming process for an ultra strong, ultra light, and extremely durable part. This is a brand new product for the C6 Corvette 2005-2013
Finish: Primer, Must be Painted
Proudly made in the USA. Their unique look will set your Vette aside from the rest. They will fit all models of the C6 Corvette (Base, Z06, Grand Sport, ZR1) obviously excluding the Convertible. The CSC Window Rails are a brand new product for the Chevrolet Corvette C6. Need that extra something to set you apart at the next car show, you've found it!
With this version of the Window Rails you do not need to purchase the Halo Replacement.
---
This is a special order item. It cannot be returned or canceled.
Proudly Made in the USA