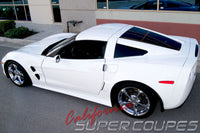 Rear Quarters ZLR Wide ZR1 Style for Chevrolet Corvette C6 Coupe by CSC
ZLR Wide ZR1 Style Rear Quarters for Chevrolet Corvette C6 Coupe by CSC (GM Parts Kit is available)
California Super Coupes is proud to bring you our wide rear quarters for the C6 Corvette. The quality, finish, and strength of these rear quarters is unmatched. These rear quarters are modeled after the ZR1 factory rear quarters but they are 3" wider than factory ZR1 rear quarters.
They will fit all models of C6 
Driver and Passenger Side Rear Quarters with liner extensions
NOTE:
If you need the GM Original Parts Please select "Rear Quarters with GM Parts" under options
If you select "Kit" it will include:
Inner and outer vent inserts (015842371, 015842370, 025790357, 025790358)
Rear Splash Guards (015818637, 015818636)
Seals (15881432 qty2) For rear quarter to hatch
This listing is for the coupe only, If you have a Convertible we only offer the Super Wide rear quarters
---
This is a special order item. It cannot be returned or canceled.
Proudly Made in the USA